A project by fabric | ch
in partnership with Canal+
with the support of Bit Management
In 1999, fabric | ch created La Fabrique, a digital gallery built for "the 2nd World" of Canal+ (Le 2ème Monde in French), a predecessor of 2nd Life, but in a digital and realistic copy of Paris. We designed La Fabrique to question this very banal and functional approach of 3d MMOGs (massively multiplayer online games/environments). During three years, it hosted several exhibitions, which speculative topics were relevant in our work around the end of 20th century:
La Fabrique 00 - Digital Prosthesis (1999), featured artists and designers interested in net art like Andy Best, Cristiano Bianchi, Jacques Perconte, Maurice Clifford, Steve Guynup, Victoria Vesna & Craig Brown
La Fabrique 01 - Recombinant Interiors (2000), featured students of ETHZ (CAAD), directed by Prof. Maia Engeli, Prof. Andrew Vande Moere
La Fabrique 10 - Algorithmic Manipulations (2001), featured students of ECAL (MID), directed by Prof. Patrick Keller
La Fabrique 11 - Diffused Energies (unreleased), should have featured contemporary artists, writers and architects like Dominique Gonzalez Foerster, Berdaguer & Péjus, Maurice Dantec or LAB[AU] in 2001, but has not been completed up to now.
A restrospective exhibit is organized at Siggraph 2010 in Los Angeles by one of the digital artists who took part to the first release of La Fabrique: Steve Guynup. Web3D technology has evolved since 1999 and plug-ins used at that time are not available anymore. So, for this event, a video of the 3d space and screenshots of the works have been released to give a hint to current visitors.
Watch the video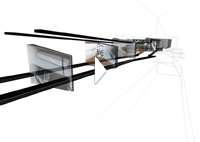 Browse the screenshots